---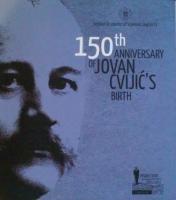 150th ANNIVERSARY OF JOVAN CVIJIĆ'S BIRTH
Authors: Group of Authors :: Editor: Vidojko Jović & Ana M. Petrović :: Year of publishing: 2015
Publishers: Serbian Academy of Sciences and Arts
Geographical Institute "Jovan Cvijić" SASA
The Serbian Academy of Sciences and Arts marked the 150th anniversary of the birth of Serbia's and world's great scientist, academician and the president of the Serbian Royal Academy, Jovan Cvijić (1865–1927). The international scientific conference was organized from 12 to 14 October, 2015 dedicated to Jovan Cvijić's life and work. Over 100 papers were presented at the conference, within five different sessions: Life and Work; Geomorphology and Geology; Anthropogeography; Ethnology; Political Geography; Various Topics. Besides speakers from Serbia, the participants came from 15 European countries: Austria, Bosnia and Herzegovina, Bulgaria, Italy, Hungary, Germany, Romania, Russia, Slovenia, Turkey, Ukraine, France, Montenegro, Czech Republic and Switzerland.
The Book of Abstracts was published in the English language, and these Proceedings include the papers accepted for publication based on positive peer reviews.In addition to the Conference, a stamp featuring a Cvijić's portrait was issued to commemorate his great Jubilee, along with a golden plaque featuring his en face that was awarded during the opening ceremony of the Conference to individuals and institutions from Serbia and abroad in recognition of their contributions towards the development of scientific disciplines nurtured by Jovan Cvijić.
An art exhibition was set up titled: The Belgrade Atlas of Jovan Cvijić, at the Gallery of the Serbian Academy of Sciences and Arts, with a catalogue in Serbian and English published to accompany the exhibition, along with a monograph in Serbian and English: Jovan Cvijić – Life, Work, Times.
Преузмите књигу у пдф формату: 2016Zbornik_JCvijic.pdf